Dan Schneider Universe Wiki
Welcome to the official Dan Schneider Universe Wiki, a collaborative encyclopedia for everything and anything related to the Dan Schneider Universe! There are 200 articles and we are still growing since this wiki was founded. The wiki format allows anyone to create or edit any article, so we can all work together to create a comprehensive database for the Schneider's Bakery franchise. Don't forget to visit this wiki's Guidelines before editing.


Today is the 24th, and currently there are 910 edits to this wiki.
Did You Know...
...that iCarly, and Henry Danger are the only series' that made it to a fifth season.
...On August 10, 2012, Victorious was cancelled?
...That in August 2011, Miranda Cosgrove broke her ankle in a bus accident?
...That production for Sam & Cat began in January 2013?
...That on July 11, 2013, the amount of episodes for Sam & Cat first season were doubled in to 40 episodes?
...NBA star Russell Westbrook stared in Henry Danger.
...That Jake Farrow (Gavin from Drake and Josh) voiced Rex in Victorious?
... The parodies are still appearing in the background?
...Henry Danger is the longest running series in Nickelodeon sitcom history?
Helping Out
To add more Did You Know, click here.
To write a new article, just enter the title in the box below.
Featured Cast Member
Matthew H. "Matt" Bennett is an American actor and writer. He is best known for playing the role of Robbie Shapiro in the Nickelodeon sitcom, Victorious. His alter ego is Mott Bonnott.
Matt began his acting career with an appearance in one episode of the Comedy Central, Michael & Michael Have Issues as Greg the Intern.
He also had a film debut by starring in a 2010 "mockumentary" called The Virginity Hit (produced by Adam Mckay and Will Ferrell) where he played a nerd who's attempting to lose his virginity while his friends film the events.
Matt currently co-stars as Robbie Shapiro in the Nickelodeon sitcom, Victorious. He co-wrote a short film, Text Me, with Bayou Bennett and Daniel Lir in 2010.[1] He also starred in the feature film The Virginity Hit, which was released on September 24th, 2010. He had a very brief cameo in the film Bridesmaids.
On July 19, 2011, he released a single "I Love My Guitar" under the name Mott Bonnott (which is also his YouTube username).
On May 20, 2012, he released his debut EP, Warm Fuzzies Vol. 1 on his bandcamp under Mott Bonnott. He sold it for $5 and half the proceeds went to St. Jude's Childrens Hospital. (more...)
Featured Episode
Chasing Zoey was the series finale of Zoey 101, and premiered on May 2, 2008. It aired as an hour-long movie.
The movie is centered around PCA's approaching prom and the characters' issues leading up to it. It starts with Zoey's boyfriend, James, giving her a locket with the inscription "I love you – James". Zoey, however, is still unsure about how she feels about Chase. This leads to Zoey's eventual break up with James. When she offers to return the necklace, James insists that she keep it. They each agree to remain friends. (more...)
Featured Location
Hollywood Arts High School is a fictional performing arts high school (grades 9-12) in the Hollywood district in Los Angeles, California. Tori and Trina attend along with their friends and other students in Victorious. It is located next to a preschool, as seen in Jade with Tots. Like regular schools, all performers need to take English, Science, History, Language, and Math alongside Performing Activities. Hollywood Arts has "The Big Showcase" every year, and it was during one of the showcases that Tori joined Hollywood Arts. According to several posts on TheSlap.com, the janitor's closet nearest the gang's lockers has video and picture cameras in it, for unknown reasons. It also has academics and athletics. (more...)
Help
Do you have any questions?
Ask one of the admins.
Featured Pairing
Cibby is the romantic pairing of Carly Shay and Gibby Gibson.Carly and Gibby are very close friends, maybe even more now, and have known each other for a long time. Gibby constantly appears on the iCarly website, iCarly.com, in the clips, and hangs out, fairly often, with the iCarly gang. Carly is nice to him and even tries to stick up for him at times, while Sam almost always makes fun of him. As mentioned in the Nickelodeon promo, Gibby may have "eyes for Carly". (more...)
Featured Character
Mrs. Lee is the owner of the former restaurant Wok Star and her newer restaurant, Nozu.
She is obsessed with celebrities, and insists on taking a picture with every star that walks into her restaurant (Angelina Jolie, etc.). As seen in the episode, she has a wall with lots of photos on it, possibly celebrities. She offers to pay for the production of Jade's play, "Well Wishes," at the local theater, but forces Jade into running the play her way in order for her to receive the sponsoring. Her changes include creating a character, a singing angel, for her daughter Daisy to play, most likely because she wanted her daughter to get into showbiz. She also wants to turn the play into a musical. Jade eventually grows frustrated, and the group makes a plan to lure Mrs. Lee away from the theater, so she won't see that Tori and Jade produce the play the way Jade originally has written it. While Mrs. Lee is gone, the two girls leave Daisy hanging from her harness above the stage, waiting for her cue that will never come. (more...)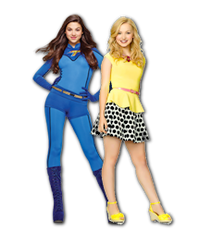 Community content is available under
CC-BY-SA
unless otherwise noted.